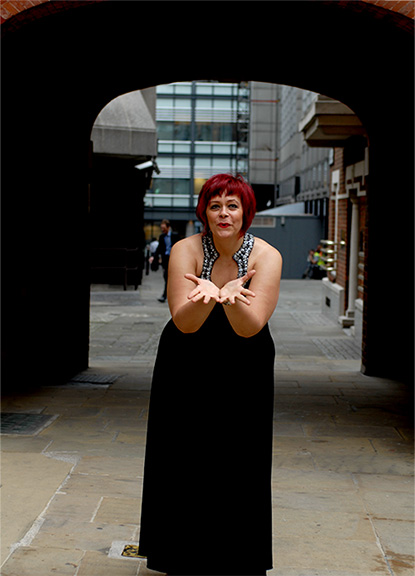 20th Century cello and piano master pieces: Schnittke and Poulenc, November 2014
Lesley Shrigley Jones, cello
Yekaterina Lebedeva, piano
"..excellent performance... everyone was completely entranced with the power and the intricacy of your playing...we were taken beyond our normal level of enjoyment..in Schnittke we could hear the howls of the earth, the crying of the people ..."


Sunbury & Shepperton Arts Association 2014
Cairo Symphony Orchestra,
soloist Yekaterina Lebedeva (piano),
conductor Moustafa Nagui,
Cairo Opera House Main Hall, 24 June
"…The next event was the first year of Alfred Schnittke's Concerto for Piano and Orchestra. It is of enormous difficulty to perform for soloist and orchestra. Being Russian, Schnittke leans heavily on Tchaikovsky and Prokofiev, with strange errant passages suggesting Scriabin.

Everything about this concerto is original for the piano alone, meditating, destructive, epileptic thoughts which disappear as the mind wanders on, and the whole thing sinks into romantic gestures which end in dead silence, suggesting nothing. Then the piano starts again. The orchestra in this concerto is a more than important presence, more than a friend. It is a completely different entity to the piano, billowing away in major keys while the piano broods in no key at all, in deepest Viennese twelve tones.

Lebedeva, the player, was equal to all its caprices. She fumed, pouted, then went wild, suicidal, like a pianistic session with Heisenberg. Lebedeva was frightening, the sounds and the awkward personality of the piano became part of her. It seemed to defy everything, this piano -- Nagui, the orchestra and the player. Lebedeva seemed to be no player at all. She sounded out of time in a different tone world of her own special making, and all this from the piano in front of her.

This young player performed a feat a personal displacement, unique. She's Russian, but like many before her she's taken to London. She lives there and plays at St George's Hanover Square, and all the other festivals as well as the proms. To hear her do this work with an approving and indulgent conductor like Nagui, both locked in the same closet, hardly any depth between them in which the mood was a grand and exalted end to the concert season, due to begin again next October. May she please come again, with the same conductor and orchestra, to do the Ligeti concerto, Schoenberg or Eliot Carter. Such music making is what the opera house needs"


David Blake
Al-Ahram Weekly
Stravinsky, Concerto for piano and wind instruments, at the Athens Megaron Orchestra of Colours
Yekaterina Lebedeva, soloist
"…percussive robustness and technical championship of the Russian pianist Katerina Lebedeva"


Yiannis Triantis
Eleftherotypia
Yekaterina Lebedeva at
St Martin-in-the-fields
The lunchtime recital at StMartin-in-the-Fields on 22 September by the young Russian pianist Yekaterina Lebedeva was far from being a run-of-the-mill occasion. In the first place, her choice of programme was particularly interesting and enterprising for such an event; in the second place, her playing throughout betokened an artist of exceptional attainments. She began with Brahms's Three Intermezzi opus 117, reflective and haunting by turns, which she played with much poetry and insight.

Georgi Sviridov's Partita in F Minor turned out to be a fine work, which we should hear on the regular basis, and which was played with an impressive combination of virtuosity and commitment. This important composition was followed by three pieces from the Children's Album by Sergei Slonimsky, nephew of a great musicologist. Once again, this artist impressed by her winning ability to capture and project mood and characterisation, so that one wished her programme had been longer. Yekaterina Lebedeva clearly deserves a wider audience for her excellent musicianship and we look forward to hearing her in the future.


RM-W
Musical Opinion
Yekaterina Lebedeva at the
Wigmore Hall
The programme by the young Russian pianist Yekaterina Lebedeva at the Wigmore Hall on 25 March reinforced the favourable impressions she has made at her previous London appearances. The recital's overall title, taken from Liszt's Harmonies Poétiques et Religieuses, was not wholly dominated by the Liszt pieces in the second half, but a certain thread, imaginative and of an inner intensity, was maintained throughout. Beethoven's Moonlight Sonata was beautifully and excitingly played, and the three very different Brahms' Intermezzi from his Opus 117 made an unusual yet appropriate foil.

The second half saw this artist in exceptional form: Liszt's Invocation and Cantique d'amour were most telling in their differing ways, and Scriabin's F-sharp minor Sonata brought out the very best playing of the evening. This was a quite gripping performance.

A notably successful Chopin group brought this most worthwhile recital to a satisfying conclusion.


Robert Matthew-Walker
Musical Opinion